Huggles
Monkey Blankie
(Certified Safe for all Ages)
Prices From: £12.95 - £22.95
Official Cubbies baby security blanket
Lovingly handmade
Personalise with a variety of embroidered designs
Machine washable
Safe for all ages
Size: 11.5″ x 11.5″ x 11.5″
Disclaimer: Stitched embroidery will be visible on the reverse side of this product

Huggles The Monkey Blanket Comforter
Huggles is an Original Cubbies® monkey blanket comforter blankie designed and hand crafted to delight any child who receives it.
Available in pink, the cubbies monkey blanket can even be personalised with your own carefully chosen message.
Choose something like the name of a child, the date they were born on or simply a birthday or Christmas greeting and the words you give us will be hand-embroidered onto the Cubbies comforter blanket itself.
Careful hand stitching and the very best materials combine to make sure that this is a gift that will be treasured forever, and the fact that the cubbies pink unicorn blanket is machine washable means that Huggles will always look their best, no matter how many hours of playtime they enjoy.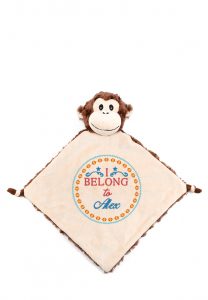 A monkey blankie with a custom embroidery design
Huggles is a custom monkey blankie personalised by you. Designed in-house by the Cubbies creative team, its unique appearance includes the classic Cubbies design. Huggles has a brown body, snuggly fur, big black eyes and a friendly smile.
Cubbies Baby Comforters
A comforter is a small toy or blanket that your baby can use to get settled helping them to sleep quicker.
Comforter blankets, also known as a security blanket or blankie help support your baby as it goes through changes during development.
Blanket comforters also act like your baby's best friend as they can accompany your child when they are away from the normal surroundings such as during sleepovers, stays with other family members, long car trips, day-care and more.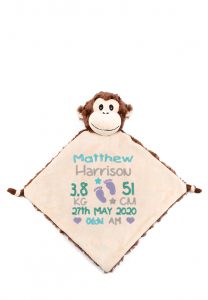 Cubbies make the softest, most cuddly personalised baby comforters you will find
Each Cubby is embroidered with a name or personal message making each teddy special and unique. We can complete your custom personalised teddy bear in just 48 hours.
Range of cuddly baby comforters
Our large range of personalised baby comforters includes Starflower the Pink Unicorn Blanket, Bingle, the grey penguin blankie, Cubbyford, the pink bear blanket, Huggles, the monkey blanket, Guardian the bear blankie and Sir Monty, the green dinosaur blankie.  Each one ready for you to personalise with your own embroidered message.
All of our Cubbies are hand crafted and personalised just for you. We offer one of the fastest turn around times available. Please allow just 2/3 working days for your Cubby to be lovingly handmade and sent out for delivery.
Free delivery when you spend just £60

Subscribe to our newsletter for exclusive offers first: Subscribe
All items are shipped from the UK. Delivery times are not guaranteed and depend on your location.
Royal Mail 48 / 2-3 Working Days / £3.50
International Standard / From 5+ Working Days / From £5.99
For more delivery information please click here: Delivery