Cubbyford
Blue Bear
(Certified Safe for all Ages)
Prices From: £19.95 - £29.95
Out of stock
Official Cubbies soft toy design
Lovingly handmade
Bespoke design and beautifully embroidered
Unique zip design – Enabling you to remove stuffing pods and safely wash your Cubbies teddy
Machine washable
Safe for all ages
Size: 13″ height

Cubbies Original Personalised Blue Bear Teddy Bear
Original Cubbies® designer bears like the blue bear teddy are handmade and come with an embroidered message of your choice.
The stuffing pods can easily be removed for safe washing and the blue Bear can be personalised with a designer message which is hand embroidered.
Whether it's the name of a lucky child, the details of a birth or simply a loving greeting, you can create a unique gift that will be treasured forever.
The handcrafting of the designer bears added to our in-house design facility means that each item is high quality and bespoke.
The pink colouring is suitable for boys or girls making these designer bears the ideal gift choice for a range of occasions.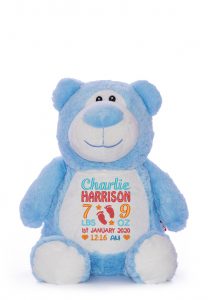 A blue bear teddy bear with a custom embroidery design
Cubbyford is a custom blue bear teddy bear personalised by you. Designed in-house by the Cubbies creative team, its unique appearance includes the classic Cubbies signature design.
Cubbyford has a pink and white body, snuggly fur, friendly black eyes and a soft pink nose.
High-quality baby sensory toy
The soft sensory rainbow teddy bear is one of a large range of sensory toys for babies.
Our sensory toys for babies will help stimulate your little one's early development with a personalised touch.
A Cubbies personalised teddy bear sensory toy will be cherished for life. Each toy is embroidered with a customisable design, personalised by you.

What is more enchanting than a toy made perfectly for you?
Our sensory toy pink bear teddy bear is a super soft toy safe for all ages, machine washable, and, most importantly, lovingly handmade.
Begin customising this incredible teddy by selecting from one of our themed templates and replacing the existing information with your own details, name or message.
This means that, whether Cubbyford pink bear teddy is simply being bought for a monkey lover or a specific event such as a birthday or christening, it is sure to leave a lasting impression on its new owner and be cherished for years.
To ensure the longevity of all Original Cubbies® toys, we have designed them with a zip that can be used to remove each toy's stuffing pods and place the teddy in the wash.
This means that, no matter how many times this soft toy is washed, it will not become misshapen over time.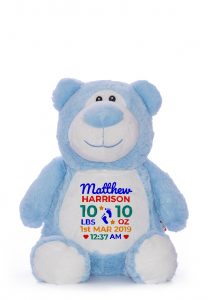 Personalised soft toys that will win your child's heart
The customisable design means you can include your own message, choose your own pattern, and add bespoke text….
Our large range of personalised teddy bears baby sensory toys includes Cubbyford the rainbow bear,  Aurora, our signature unicorn, Puddles the penguin teddy bear,  Bubblegum, a baby sensory bunny teddy, Penelope the horse, Dumble the cuddly pink elephant toy, and each one ready for you to personalise with your own embroidered message.
All of our Cubbies are hand crafted and personalised just for you. We offer one of the fastest turn around times available. Please allow just 2/3 working days for your Cubby to be lovingly handmade and sent out for delivery.
Free delivery when you spend just £60

Subscribe to our newsletter for exclusive offers first: Subscribe
All items are shipped from the UK. Delivery times are not guaranteed and depend on your location.
Royal Mail 48 / 2-3 Working Days / £3.50
International Standard / From 5+ Working Days / From £5.99
For more delivery information please click here: Delivery