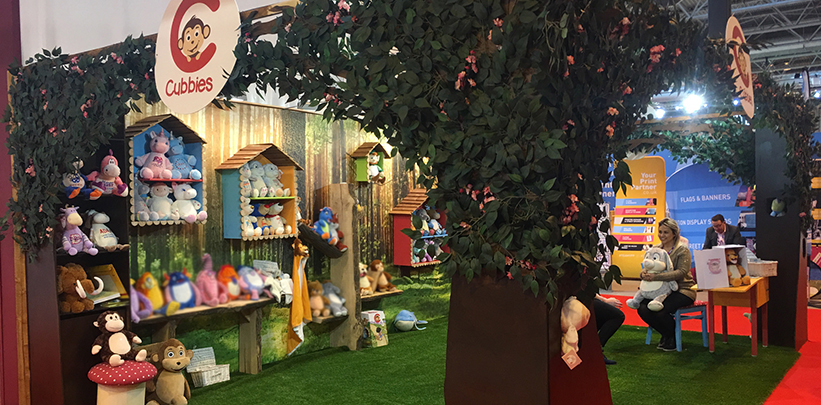 CUBBIES AT PRINTWEAR & PROMOTIONS
This was our third year at the Printwear & Promotion Show. It was a great chance to showcase our new Cubbies for the Spring, but also get valuable feedback on the new ideas we have and gauge price points.
New Stuff
I was working on a signature range last year, but it was not so well received. After hiring Leo, our illustrator, in March last year we began working on some new fabulous designs. The first being the Christmas Elf and Snowman that sold so well in the winter. I'm always looking for little tweaks, 1 mm here and there, to make our Cubbies more appealing. We designed the new monkey eleven months ago and I'm still making tweaks to the shape of the smile – we will get there eventually :)
Keep an eye out for a new dragon, penguin, lion and bulldog in the Spring.
Sadly, I didn't have a good enough backpack prototype to showcase at the show but I promise, it will be fabulous when complete. Similarly, we are constructing a hooded towel for children and hoping to resell at the same price as the Cubbies; I know price point is super important and I won't bother launching something that doesn't hit the right price mark.
Did you remember my New Year message about the new *thing* I was launching for the summer. Well the cat is out of the bag now… Monsters! Here is a little sneak peak…

We think these will do great. Although, they could be classed as a marmite collection as not everyone liked them – I guess they either loved or loathed them. I think they will do well for older boys of 6, 7 & 8. These critters are still in development but I will start with four or five for the summer and we'll see how they go.
We had the Hooded Towels designed in the Cubbies brand. They are very nice but price point is hard to get so the development continues until we have a great product that is the same price as the Cubbies toys. We did get great feedback on having pockets to hold on each sides, and we were like "of course!"
We also had a fabulous suggestion of a new type of Cubby that we instantly began working on. I told my designer, "How did we not come up with this before?" He replied, "Neither did Disney" My lips are sealed until the summer… ?
The shows are busy with enquiries but overall they are not cost effective for us, it's more of an occasion to keep up appearances. The problem is the show is heavy on imprinting and corporate promotions. I would love to attend an embroidery gifts show in the UK, like they have in America. A show that is not heavy on endless embroidery or imprint machines or t-shirts and hoodies, but focused on helping small businesses in the personalised gift market.  There isn't one in Canada, Australia or Europe, either. I'm seeing a business opportunity for someone savvy enough to go for it…